Aveda has a long history of being environmental and product pioneers as they have worked to formulate the best hair care products while keeping their commitment to the environment.
With a team of individuals working on green ingredients, responsible packaging, and high-quality hair care formulations, Aveda has quickly become the gold standard for environmental companies.
Aveda and its History
Aveda is a company that makes natural hair care products, including shampoos and conditioners. Their product line has massively expanded since they were founded by Horst Rechelbacher, but their mission to protect their environment has remained the same.
Rechelbacher was a pioneer in the movement to create holistic beauty products, and his insistence that the company also show environmental responsibility was progressive. He believed that his company could be different and could find different ways to make great products while also giving back to society.
Aveda was founded in 1978, with the goal to bring professional-level botanical products to market that were good for customers as well as the Earth. Rechelbacher was ahead of his time, and his environmental practices helped to make Aveda unique.
Customers were intrigued, and the art of Ayurveda added further fuel to the fire as its influences are still evident in Aveda products. Many individuals that started working with the company and developing products in the early 1970's continue to work with Aveda today.
In 1982 the first Aveda Institute opened in Minneapolis, and aspiring students began learning about the beauty industry. Aveda means "knowledge of the whole" and this mantra has continued to be part of what shapes the company today.
In 1997, Aveda was acquired by Estee Lauder and continued to thrive and become a success on a global scale. Aveda has over 9000 salons and spas spread throughout over 40 countries. The company has received numerous awards from different organizations across the world and Rechelbacher was named as "one of the most influential environmentalists in the US" by Vanity Fair in both 1995 and 2005.
Today the Aveda Institute and Aveda salons still serve as a place of learning for many individuals, and the sense of environmental responsibility remains strong.
Aveda Products
Aveda has a lengthy list of products that they offer, but all of them use quality ingredients that are environmentally responsible. This commitment to creating products that are healthy for people and the earth is just one of the ways that Aveda stands out from the competition.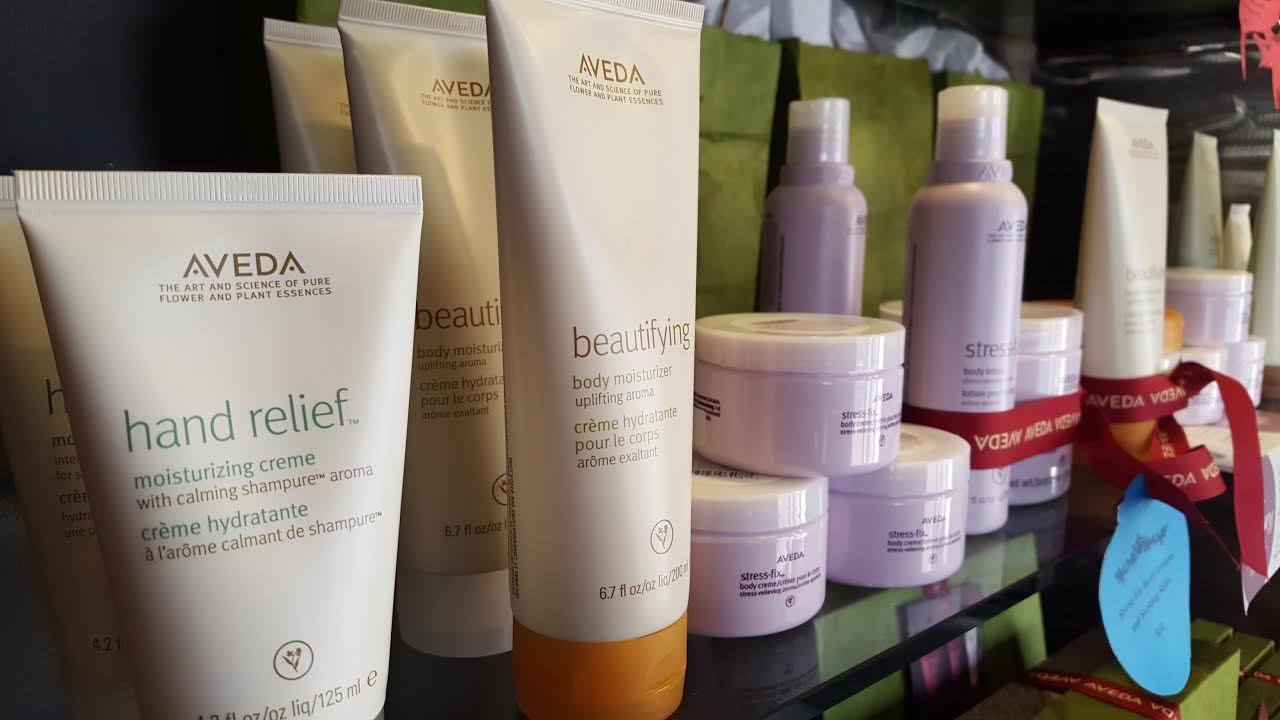 Ingredients
Aveda focuses on using naturally derived and green ingredients in their products whenever possible, and they define that as 50% or more of the substance coming from a natural source. While this may not be the conventional definition of green products, their commitment to high performance and products based on botanicals is admirable.
Aveda products contain no parabens, sodium lauryl sulfate, or phthalates, and they source each ingredient they include responsibly. Aveda believes that fair compensation and working with individuals all over the world is the best way to get high-quality ingredients while also creating a positive impact.
Many ingredients are organic and come from renewable origins with no negative impact on the local ecosystem. As Aveda works to improve their ingredient sources continuously, they also enhance their sustainability.
The ingredients available to Aveda for formulating new products can vary from year to year as their supply chain expands and contracts based on what green ingredients are available. They have begun developing their technologies so that petrochemicals can be replaced, and the processing of other ingredients is done with environmental responsibility in mind.
Responsible Packaging and Manufacturing
When Aveda works on the packaging for new products they keep a few essential items in mind before making any decisions. Considering the lifecycle that different materials will go through, or the production processes involved is a crucial part of their commitment to the Earth.
Aveda aims to use recycled packaging whenever possible, and the best materials for the environment are used, including a significant amount of post-consumer-recycled materials. Their manufacturing process also relies on renewable energy, and they offer up the same challenge to their packaging partners.
By using post-consumer recycled materials for their packaging, Aveda helps to increase their sustainability and keep waste out of the landfill. Many of their plastic bottles used to hold product are at least 80% recycled, and some are made from 100% recycled material.
Nearly 90% of the bottles that Aveda uses come from 80% recycled materials and their goal is to increase that amount in the years to come. Aveda has also started different initiatives where they get involved in recycling practices and raise awareness about environmental issues such as plastic in the ocean.
If there isn't a recycling program near you, you can still bring your Aveda bottles or tubes to the nearest Aveda Experience Center, and they will recycle them. This service is part of their "Full Circle Recycling Program" which you can read more about on their website.
Shampoos and Conditioners
Aveda offers many different shampoos and conditioners to provide specialized products for different kinds of hair and individual needs. For example, they carry exfoliating, damage repairing, and scalp treatment shampoos in addition to traditional scented shampoos for normal hair.
They also carry a line of color-safe, balancing, and volumizing shampoos that address different hair types. Aveda also has their line of dry shampoos and even shampoo specifically for men. In addition to shampoo, they also offer co-washes that help to moisturize, reduce frizz, and gently cleanse the scalp.
For each of the shampoos, there are also coordinating conditioners to treat different kinds of hair. There are complete systems of products that help to address thinning hair and may help reduce hair loss by up to 53%.
Aveda carries both traditional wet conditioners, and also the newer dry conditioners that help to detangle hair while also softening it after shampooing. They offer product sets to work on dry hair and color treated hair to prevent things like fading or moisture loss.
Some of the conditioners contain unique ingredients such as clove, blue malva, madder root, or black malva. These are all ingredients that provide a great benefit to hair, and some blends developed as far back as the 1970's.
Treatments and Masques
Leave in treatments and various kinds of hair masques are another set of products where Aveda shines, and their high performing blends are very popular. They carry split end repair, hair repair serums, and scalp revitalizers in addition to hair loss prevention systems, and balancing concentrates that protect the scalp.
There are several product options for those that have curly hair, and even a "protective hair veil" to prevent sun damage. Aveda has indeed thought of everything an individual could need based on their hair type, whether or not they color their hair, and the condition of the scalp.
Their category of treatments and masques also includes a line of products for men that prevent hair loss and revitalize the scalp. This line, as with many others, is available in travel sizes so that individuals can try out different products, or travel with the products they love using.
Hair masques have become a favorite way to boost the condition of your scalp and hair when shampoo and conditioners are not enough. Aveda offers a whole line of masques for hair that helps repair damage, smooth out an unwanted volume, and moisturize. There are also hair masques for color treated hair, sun care, and curly hair.
Hair Care for Men
Aveda may not be the only hair care company that provides products specifically for men, but their unique take on men's hair care needs does set them apart. Aveda carries multiple lines of products for men that offer advanced performance for their specific hair type.
The hair care line for men also includes styling products like composition oil and grooming clay that are specialized for men's styling needs. Many products are sold individually so they can be combined as desired, and there are also sets available.
The line of products for men that are formulated to prevent hair loss is particularly popular and well rated among users. This system also comes in travel sizes so that men can take their favorite products along when outside of the house.
Hair Color
Hair color offered by Aveda is formulated with 96% natural ingredients that promise to color your hair "essentially damage free." Their hair color line also includes hair color shine treatments that are designed to leave your hair glossy and your color refreshed.
If you do an internet search for "Aveda Salon near me" you should find the nearest location where you can get a fade-resistant and vibrant color treatment in an exotic shade of your choosing. Both permanent and glossing services are available, and treatments can take as little as 20 minutes.
Hair glossing is less intense than hair coloring as hair gloss supplements your current shade and can help add depth to the current color of your hair.