OPI nail polish is one of the most identifiable names in the cosmetic and nail care industry today. The brand is a favorite of Gwen Stefani, Mariah Carey, Nicki Minaj and other celebrities. The celebrities as mentioned above and many others have had limited edition collections from OPI.
The company's nail lacquer, polish, and gel colors come in every shade you can think of and a lot more. The company gives them unusual names you're sure to remember, often with an exotic destination in the moniker.
Many OPI nail polish products are available online and in retail stores, while others, like most of their gel products, are geared for professional manicurists in salons.
Company History
This nail care company is located in North Hollywood, California, and was initially a dental supply house called Odontorium Products, Incorporated. In 1981, new owner George Schaeffer and company Vice-President Suzi Weiss-Fischmann invested in an acrylic system for nail care.
In 1989, the company introduced nail lacquer to its product line with 30 colors.  They developed their unique naming system, which spiced up the industry. Most nail colors were tagged with numbers (Red #4, Pink #3, etc.) until this innovation.
There are around 160 colors offered by the company at a time. The company retires colors after a year, and new shades and collections are introduced.
The company's traditional and long-lasting nail lacquer won the 2017 Nails Magazine Readers Choice Poll, which is voted on by nail industry professionals.
Colors and Collections
Color collections debut each year. Recent lines include the fresh, cool Iceland collection with colors such as the dark blue "Less is Norse" and the tangerine/coral "I'll have a Gin and Tectonic."
The Lisbon collection has a selection of pastels, and brighter shades, including the bright pink "Tag Us in That Selfie" nail lacquer and the yellow gel "Sun, Sea and Sand in My Pants." (Both of these colors are available in salons only. You can't buy them at stores or online.)
The California Dreaming Collection has colors like "Santa Monica Beach Peach" and the gold-colored "Sweet Carmel Sunday".
All collections offer some of the brand's ten shade categories – yellow, orange, red, neutral, pink, purple, blue, metallic, green, and white/grey/black. Even if you have a quirky taste in polish colors, you will find something to your liking in one or more of the collections.
The brand occasionally offers mini-packs of nail lacquers based on a movie or other theme, such as a Grease mini-pack based on the fashion in the film. Mini-packs based on a particular collection (Lisbon, California Dreaming, etc.), may also be available at retail or online stores.
Several OPI nail polish colors appear on most popular or best of lists. Malaga Wine is the most requested color at Topper's Spa and Salon in Philadelphia, and Big Apple Red is popular at the Christophe Salon in Washington, D.C.
Unlike its competitors, this brand of lacquer has a Pro-Wide Brush to distribute the color evenly and prevent streaking. The bristles are placed in a stack for a smoother, flatter, surface.
Gels
There are 140 odor-free OPI gel colors. The weightless polishes come in four different product lines – gel color, soft gels, top and base coats, and the professional Axxium Gel System.
Gel colors come in a bottle, like regular polish. Most of these salon-only gels must be cured under a LED light for half-a-minute after each application to ensure non-stop wear for two to four weeks.
(Infinite Shine gel-based polishes dry with curing under a LED.  It is available at salons, and some shades are sold at Ulta and other stores.)
Most gel product lines are applied in a 15-step method that includes the application of a pH balancing agent and base coat, followed by a 30-second cure under a LED light. The first layer of color is added, followed by another 30 seconds under the light.
After the second coat, your nails must be cured under the LED light again. Finally, the top cost is applied, and the nails are cured one last time. The LED curing system ensures that the color stays on longer, saving you extra trips to the salon for touch-ups.
The Axxium Gel System is available in a plain and sculptured gel and is used when regular Gel won't work. The Axxium Gel is sticker than the regular gel and must be applied and removed at a salon. It is usually applied with artificial tips.
In the gel and tip overlay method, white tips are applied to the nail, and a balancing agent and gel base are also added to protect the nail. The gel system keeps the polish looking shiny and chip-free for weeks.
Service-only sculpting gels come in soft pink, soft white, opaque, pink, and clear for pink and white nails. The opaque pink is used to cover up imperfections.
You must have a special login to purchase salon-only gel colors, professional implements, and similar products.
Professional Nail Tools
The company offers professional nail tools you can use at home, like files and brushes, and salon-only tools. The salon tools include a quick-dry LED light, dappen dish (used by customers to soften or clean hands), and disinfecting solutions. Other pro salon nail implements from this manufacturer include:
Safety glasses
Glass eyedropper
Salon mitts
Automatic fluid dispensers
Reusable nail forms
Removal wraps
Salon managers can buy the Spa Complete in a 32 ounce or one-gallon size. This all-purpose disinfecting solution protects against bacteria, viruses, mildew, mold, and fungus. It is non-corrosive and safe for pipes. It can be used on all salon tools, including pedicure apparatus, as well as tables and other hard surfaces.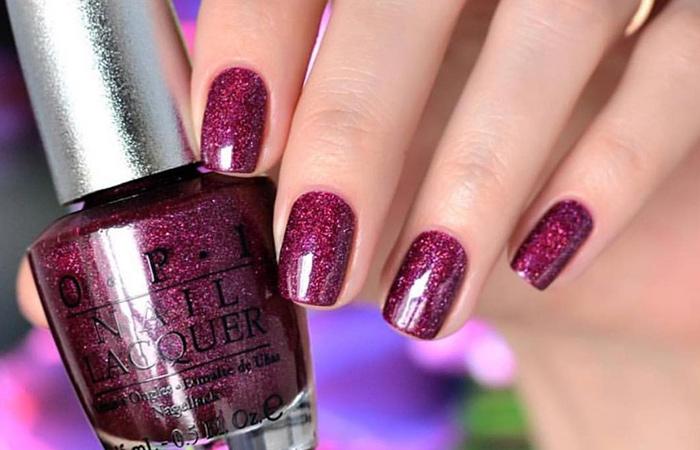 Nail Art
This nail products manufacturer offers an extensive collection of nail art. Get a chrome, shiny or icy effect with one of seven collections, including Lisbon, Fiji and Infinite Shine.
A manicurist can use polish and a nail art product to produce a design that's right for you, including a glitter look or a simple design using several colors of polish and different shapes drawn on the nail with polish.
If you want a striped design, your manicurist will use a striping brush and a few different polish colors.
Pros and Cons
Users and industry reviewers like the color selection and smooth application. Overall, consumer reviews were overwhelmingly positive.  There are 29,930 reviews on Influenster for a 4.68 overall rating.
The most mentioned pros and cons, according to reviews compiled by Amazon, Makeup Alley, Ulta and other sources are:
Pros
Amazing variety of colors
No streaking during application
You can buy the nail lacquer anywhere
The thick brush is easy to use
Goes on smoothly without air bubbles
It will last in the bottle for several years
Cons
Only lasts a few days
Chips easily on some users
More expensive than most brands
Color may change within a few days of application
One reviewer suggested air drying to prevent the water marbling that sometimes occurs when you use a fan to dry polish.
Complaints include "clumps a little over time" and "chips after the third day." One woman wrote that her daughter had an adverse reaction to one of the ingredients in the product.
Where to Buy
You might think a brand that's featured at many salons might be hard to find at the normal retail outlets, but this nail polish is widely available at discount and cosmetic stores.  You can buy the brand at Ulta, Sephora, Sally Beauty, JC Penney, Macy's, Regis Salons, Chatter Salons, and online at Amazon and Home Shopping Network.
Walmart, Target, CVS, and Walgreen's also sell OPI nail polish, though they may not carry as much of a wide product selection as other outlets.
In addition to nail lacquer, you can find nail files, exfoliating cuticle cream, nail lacquer remover, primer, base coat, top coat and nail strengtheners from the brand in retail stores and online.
Ingredients
The brand's nail lacquers don't contain formaldehyde, dibutyl phthalate (DBP), or toluene, which are considered toxic ingredients (The "Toxic Trio" of nail lacquer.)
After reformulating their nail lacquers in 2006, the ingredient list contains the solvents Ethyl Acetate, Butyl Acetate, Propyl Acetate, Isopropyl Alcohol and Diacetone Alcohol. These solvents rate a one or two, according to a database that rates cosmetic ingredients on their toxicity, with ten being the most toxic.
The film formers in the lacquer make it shiny and resilient. The ingredients used to accomplish this are Nitrocellulose and Dimethicone, a one and three, respectively, and Tosylamide Formaldehyde Resin, a polymer with a four rating.
There are four plasticizers used to prevent cracks and chips, and one of them, Triphenyl Phosphate (TPHP), rated five out of ten on the toxicity database.
Benzophenone, which is used as a UV absorber, rates a four on the toxicity scale, is linked to contact allergy and endocrine disruption when used in high amounts.
While a few of the ingredients may cause issues in sensitive individuals, this brand of nail lacquer is one of the safest on the market today.