The cat eye, contouring, and the red lip are some classic makeup looks you've likely come across. But, nothing depicts a brazen and bold look like the smokey eye. Celebrities like Kristen Stewart and Kim Kardashian rock this look regularly and to perfection.
While the sultry shadow looks may seem easy, you can quickly create a weird look trying to achieve a smokey eye. Fortunately, we have created a detailed guide to help you create a flawless look.
Before we get to the tutorial, here are some quick tips and tricks for doing a better smokey eye.
Quick Tips on How to Create a Smokey Eye
Using these pointers will help you achieve the look you're seeking.
Have the Right Tools
Tools are essential when creating a perfect smokey eye. The same applies when you're trying to achieve a contoured face or the best beach wave. You don't need to have multiple tools to get this look.
All you may need is a tapered blending brush, a fluffy blending brush, and a flat, paddle-shaped brush.
The flat brush adds definition to the crease and packs the colors on the eyelid.  The blending brush allows you to reach the ends of the crease.
Stay away from stiff brushes as they make it difficult to blends the eyeshadows. Makeup artists also advise you to stay away from sponge applicators. They cannot handle the intense pressure, and this results in an uneven and patchy look.
Experiment with Different Textures and Colors
You're likely to come across a smokey eye palette with blacks, grays, and deep purples.  Nonetheless, you'll be happy to know that you don't have to stick to these color schemes.  You can use any color, as long as the technique is tight.
Play with a light, medium, and dark shades of colors like coppers, burgundy tones, and deep wine, jewel-navy and deep chocolates.  These shades work well for people with different skin tones.  Ensure that the depth around the eyes and the lash line is elongated.
The rule of thumb is to work with a shade that complements your skin tone. If you have a deep skin tone, opt for a deeper shade. A warm skin tone works well with warmer shades.
Don't Get Stuck on the Details
It's understandable that you'd want to be perfect. Nevertheless, don't pay too much attention to the details.  Avoid getting too sleek with the shadow or too sharp with the eyeliner. The best smokey look appears creased, worn in, and well-blended.
Remember to keep the rest of your makeup minimal to achieve a flawless look.
Don't Be in a Hurry
The last thing you want is a smudged smokey eye.  Do not rush when creating a smokey look especially if you're going for a classic look with deeper shades.  Take your time to blend in everything and get the right shape.
A smokey eye involves making the eye appear sultry and seductive. Make sure that the lower lashes and the brow bone are visible. A minimum of 15 minutes is enough to blend and clear out any mistakes you've made during the process.
Use the Right Technique for Your Eye Shape
There is a no one size fits all when it comes to smokey eyes.  The technique used depends on your eye shape. If you have eyes without a deep socket, a cut crease will work best. Additionally, if you have an eye that's lighter in the center, you want to avoid hooded or mono eye shapes.
Keep the Eyeshadow Close to the Lash Line for a Daytime Look
Achieving a daytime look is possible.  All you need is to keep the eyeshadow close to the lash line. Avoid lining the bottom lash line. Pay attention to the inside of the waterline. You can experiment with different eyeshadow ideas to determine what works for you.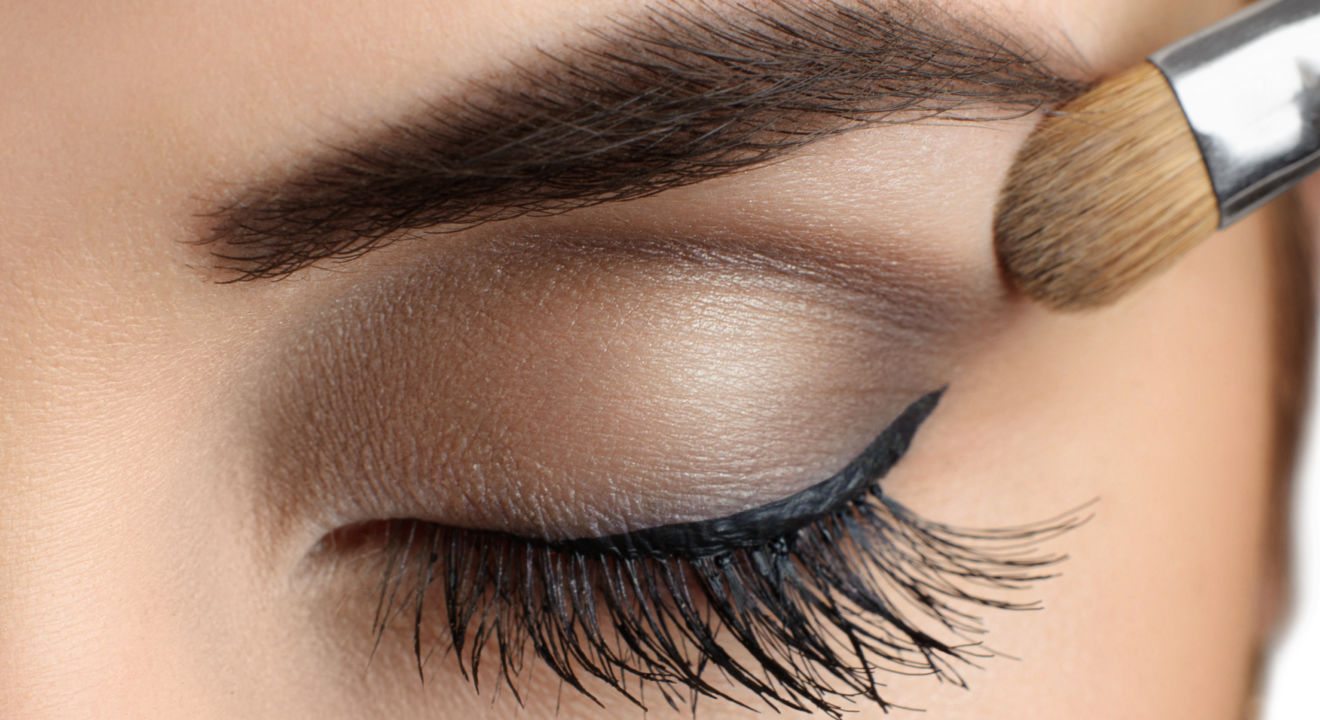 Complete your Eye Makeup Before applying your Foundation
The application process can be messy although the result is stunning.  Wait until you're done to clean up around the eye area. It's also wise to wait to apply your face makeup. This makes it easy to wipe away unwanted smudges or fallen powder without messing with your face makeup.
Mix a Dark Shade with a Lighter Base Color
Your final look may appear splotchy when applying your eye makeup.  Mixing a dark shade with a lighter base color ensures that the dark color doesn't lay at the base.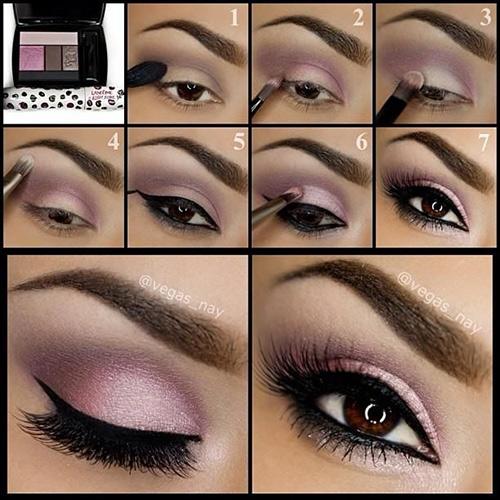 Smokey Eye Tutorial
Now that you've got the baseline knowledge you need, let's dive into our tutorial.
The Steps on how to do a smokey eye are as follows:
1. Use a Primer
You don't want to have a smokey eye that smears, travels, or gets into fine lines before attending an event or a date. Applying a primer is a great way to keep your smokey eye in place. The right primer also reduces the chances of the color moving into creases.
2. Do not forget to use a Concealer and Powder
Dark circles kill the elegance of a smokey eye.  You don't want to appear bruised. A concealer can help neutralize the shadows under your eyes.  Opt for a concealer with a thick consistency. This ensures that it settles into the creases.
Use your ring finger to dab a creamy concealer on your under eye area. Once done, take a fluffy brush and pat some translucent powder on this area. Swipe the excess powder to complete this step.
3. Create a Definition
You need to create a subtle definition and not the actual smoke. Apply some base shadow up to your crease above your eyes.  Don't forget to brush the lower lash line.  Use a sponge applicator or a brush to blend in the look.
The light shadow helps to neutralize any discoloration or redness in the eyelids. Also, it ensures that the look lasts longer.
Consider your complexion when choosing an eyeshadow. Teal, purple, and deep browns are excellent color options for a dark complexion.  Grey, champagne, and taupe work well with a fair complexion.
4. Build Intensity
At this point, you need to build intensity by applying a medium shadow on the lower lid. Stretch into the crease. You can add a darker shade on top for added depth.  Pay attention to the outer corners of your eyes.
5. Use a Liner or an Eye Pencil
Eyeliner is a vital cosmetic tool if you're looking to achieve perfect smoky eyes. If you're just starting out, opt for common shades like black, brown, and gray.  Blue eyeliners, dark green, and purple are some fantastic choices for the pros looking for a more colorful appearance.
Take a gel liner or an eye pencil and line both the upper and lower lash lines.  The lines need to meet at the outer corner of the eye. If you're worried about your eyes looking smaller, you can use the liner just underneath the lash line.
You can choose to smudge the liner with a cream shadow brush or smoke out the lines by adding a layer of powder shadow. Once you've achieved the perfect smoke, you can opt to draw a cat eye on the upper lid. This look works well if you're going to an evening event.
6. Add Some Shimmer
At times, you want to make your eyes appear bigger or enhanced. Adding some shimmer to the center of your eyelids is an excellent way to add definition to your eyes.
7. Apply Mascara
Your smokey eye is not complete without lashings of mascara. Go for a volumizing mascara that enhances your eyes. Wiggle the mascara right into the roots, upper lashes, and the lower lashes. Four coats are enough to complete the look.
Also, note that you're not tied to using one mascara color.  Purple or blue mascara are excellent options if you're going for a fun, edgy look.
8. Finish Off with Filled Brows
A lot of people tend to skimp out on their eyebrows. However, this only leaves you looking unbalanced.  Pay attention to your brows to get the right balance.
The sultry, sexy smokey eye can take you from your desk right to the dance floor. However, be sure to use light gray or bronze tones to achieve a formal look.
Common Smokey Eye Mistakes and How to Undo Them
If this is your first go-around, you're probably going to make mistakes. That's okay! We've got you covered. Here are the most common mistakes and what you can do to fix them.
Smudged Look
Keeping your smokey eye in place requires a little more work.  To reduce smudges, add a thin layer of powder under your eyes. This ensures that your makeup doesn't run down your cheeks.
Over-Application
Sometimes you may realize that you've applied too much makeup. Fortunately, you don't have to redo your eyes. Take a cotton bud and dip it in micellar water. Run it near the eye. Take the other dry side and blend in the colors to achieve a balanced effect.
Fallen Eyeshadow
The only way you can hold in the eyeshadow is by applying a concealer and a base before you start.  This step also helps to keep your skin hydrated.
Smokey eyes exude confidence and power. The right technique is essential for the smokey eye.  The above tricks and tips will help you learn how to experiment with different shades and colors.