If you are tired of fussing with your hair and are searching for easy styles for your short hair, you may want to consider an alternative hairstyle. Some of the styles below may need professional direction while others can be simply done in five minutes! With all the possibilities listed, there is bound to be one style that fits your personality and taste. So experiment and discover which of these hairstyles fits you best!
Easy Hairstyles for Short Hair
1. Short and Wavy with a Twist
This hairstyle is slightly above the neck with bangs off the face. Make a side part on the left. Then make two parallel twists. Pull the twists off the face to the right side. Pin them underneath slightly wavy hair so that that they can blend in. This is a quick and easy style to do at home!
2. Disjointed Pixie for Short Hair
Layer the pixie cut and sweep them to one side. It gives volume. It looks great on silver or blond hair with dark roots. This is a top notch salon choice for thin hair.
3. Curly Short
First, curl your hair. Leave it looking slightly messy by whipping your hair (insert Willow Smith song) around and running your fingers loosely through it. Use a spray with a light hold to prevent a plastic look when finished.
4. Fine Hair with Layered Bob
Lift the Bob at the root and sweep it to one side. Blow out the hair to give it more mass.
5. Short Side-swept Hair
While the hair is damp, apply some smoothing serum and comb it through to even it out. Use a flat brush to blow-dry the hair smoothly. Spray the hair with a lightweight spray. Use a flat iron to press the hair into one-one and ½ inch sections towards one side. Use a light styling wax to separate selected parts. This hairstyle is more suitable for someone with wide and a higher shaped forehead. If your hair is curly, get a smoothing treatment.
6. Soft Tousled Look
Apply a scoop of volumizing foam to damp hair. Use heat protectant to spritz hair. Section the hair and blow dry it, going back using a small-sized brush. Part the hair into one-inch sections. Spray the hair with some styling spray. Then curl sections of the hair going back. Break up the curls with a shine serum while they are slightly loose.
7. Short Ringlets
Apply volumizing foam to the hair and wait for it to set. Wrap the hair around a small barrel curling iron vertically. Leave curls to cool without touching it. To gain volume, run fingers through the base of the hair to get it slightly separated. Use a light hold spray to finish. This hairstyle is specialized for people with round, oval, or square shaped faces. If you have thick hair, this also is a style for you.
8. Short Asymmetry Look
Dampen the hair with a light texturizer. Use a paddle brush to blow-dry the hair to get a low volume hairstyle. You want to give the hair an ultra-sleek look, so it is better to use a straightening iron. Use a light hold spray to finish.
9. Volumizing Pixie
While the hair is damp, apply some light smoothing lotion. Use a paddle brush to blow-dry the hair for little volume. You want to create volume in the crown area so use a straightening iron. Use a holding spray for a finished look.
10. Crop with Ombre Look
While hair is damp, apply light texturizer. Using a paddle brush, blow-dry the hair to create low volume. Use a light hairspray to finish.
11. Textured Ashy Blond Pixie
While the hair is damp, apply a light texturizer. Use a paddle brush to blow-dry the hair for little volume. Use a light holding spray to finish.
12. Short Spike
If you already have a pixie cut, blow out your hair for a straight look. Use a round boar bristle brush to smooth out the hair while you blow it out. Do not roll the brush. Just pull it through your hair in straightforward motion. Do it from the roots to the ends. This method will make the hair straighter and give it a sleeker look.
For relaxed hair, apply a small amount of thick conditioner, with medium hold, and non-alcohol gel to the hair before blowing it out. Mold the hair into the desired style. Use a molding paste to spike your hair out as needed.
13. Short Curly Do with Side Part
Use a one-inch curling iron to curl hair. Part the hair on one side. Add two bobby pins two inches from the part. Cover the pins with the rest of your hair.
14. Hair Teased Half-Up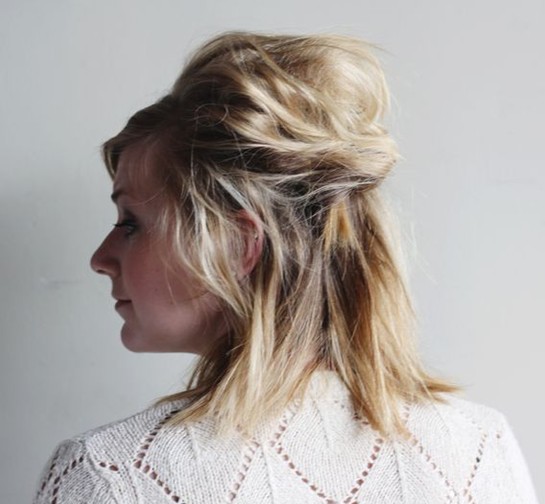 Blow-dry your hair. You create volume by teasing your crown. Use your bangs to make a deep side part. Pull a small amount of the hair back into a half-up. Use two bobby pins to secure the hair. Before pinning down the hair, push the section of the hair towards the top to create volume. This short hairstyle gives a funky and hipster feel to it.
15. "Not So Neat" Bun with Volume
Tease a section of your short hair at the top. Use bobby pins to secure the section at the crown. Push it a little forward to create some volume. Pull the rest of the hair into a messy bun.Pretend as if you are creating a ponytail but do not pull the hair all the way through. Use the hair to create a bun in a loop form. Pull it tight so that the hair can get "poofed" up (for lack of better word). From the front, pull some hair pieces down to the side to create a messy and casual look.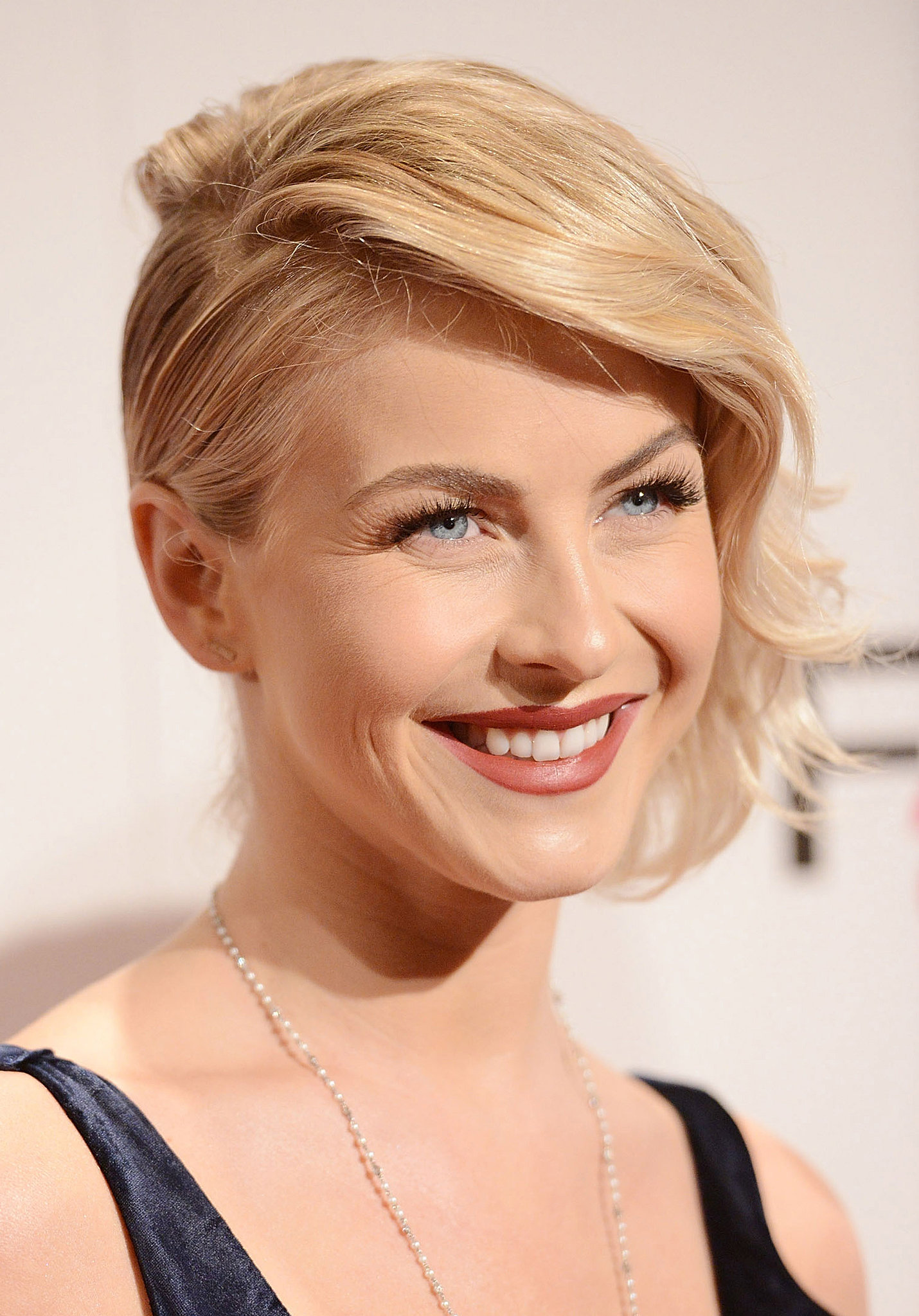 Curl hair in loose waves with a 1" curling iron. Make a deep side part and pull hair across your forehead to the other side. Pin down the hair with bobby pins. Use the loose hair to hide the bobby pins by overlapping it.