Fun nail designs don't have to be difficult to acquire – and you don't always have to go to a salon to get the latest and greatest nail fashions. Of course, going to a nail salon can take some of the pressure off of you, and will ensure that your design is done the right time. Simple nail designs can be fun and easy.
Why You Should Consider Doing Something New With Your Nails
When was the last time you got a manicure? When was the last time you even painted your nails? It's likely you've found yourself too busy for the joys of fancy nails and nail art at least some point in your life – but getting your nails done (or even doing them yourself) can actually be a mood booster!
While painted nails with gems or cool designs may not be a necessity, this kind of self-care is known to boost a person's self-esteem. Not only that, but your nail designs can be an "accessory" to your outfit, so have fun with it and get creative!
Some Simple Nail Designs To DIY
If you're ready to experience the world of nail design, and how much fun it can be to try new looks for your nails, here are some easy ways to get started.
1. Simple Chevron
If you want something easy to start with, but want a classic look, this simple chevron design will give you what you're looking for. You can pick the colors you want to use, even making it look like a French manicure style (if you'd like). Using white will really make the design pop.
Supplies –
Two colors of nail polish
You'll place the nail strips on your nails in "V" shapes, three of them. Apply the nail polish you want the most color from. You may want to use a thin brush to get close to the "V" areas.
No products found.
Peel the stickers off of your nails while your nail polish is still wet. Then, if you want to use a second color – use a thin brush to create the thin lines. Otherwise, you can leave the lines natural, and just use a clear coat on the entire nail.
2. Easy Floral Nails
Everybody loves floral, and you can get floral nails with ease using these simple steps.
First, you need white nail polish, a couple of colors for the flowers themselves, and a nail art brush that is thin (nail art pens work as well).
Your base coat will be two layers of the white paint. Once those are dry, you can use the thin nail art brush to make the flowers. Use a lighter color to make flower pedals (three or four "dots" are usually enough), and then use the darker color to add a little something – like some outlining, or a center to the flowers.
You can put flowers on the entire nail, put just a couple at the top, or put them to one side. You can paint flowers on all of your nails, or simply have an "accent finger with the flowers, and paint the others solid.
3. Splatter Painted Nails
Splatter painting is messy, but fun – and it's something you can easily do with your nails to come up with a different look every single time. Just think of your hails as a canvas, and create nail art on them (you'll need some cotton swabs and nail polish remover on hand for the finishing touch (aka mess cleanup).
Supplies –
Multiple colors of nail polish (that you like together)

Angles nail art brush
Start your nails off with two coats of white polish (or another light colored polish if you wanted to be more colorful). Once the base coats are dry, it'll be time to splash on some color (literally).
No products found.
Use the nail art brush to dip in the colors and then splash (splatter) it onto your nails. Do this with each color, on each nail. It'll make a mess, so make sure you have some newspaper or something under your hands. Once the polish is dry, use cotton swabs and nail polish remover to clean up around your nails, then put on a protective top coat.
4. Easy Two-Tone Designs
Make the top half of each nail a different color than the bottom – you can even use this to add a little sparkle to your nails. You can pick whatever colors you like, but using two varying shades of the same color (like a dark green and a pale green) can add to the dramatic look of this style. Make sure one of them is sheer or glittery.
Supplies –
A light colored nail polish

A darker glittery or shimmery nail polish

Nail strips
Apply two cotes of the light nail polish on the entire nail. Once that is dry, put a nail strip on your nail – you can do it horizontal or vertical (that's up to you). Paint half of it with the shimmery or glitter polish, then remove the nail strip.
5. Marble Effect Using Plastic Wrap
You'll truly be amazed at the myriad of things you can do with normal household items when it comes to creating awesome looking nail art. For this cool look, you just need a couple of different colors of nail polish and some plastic wrap.
Pick a sparkly nail polish, something in gold or silver, or maybe even copper. You'll also need some light colored polish, of your color choice, and some plastic wrap.
Start with two coats of your metallic nail polish choice. Gold and turquoise make a great combo for this look. Once the base coat dries, paint with the color of choice, then dab with the plastic wrap while the top coat is still wet.
This cool marbled look will shine (and last longer) when you top it off with a clear top coat.
6. Ombre Nails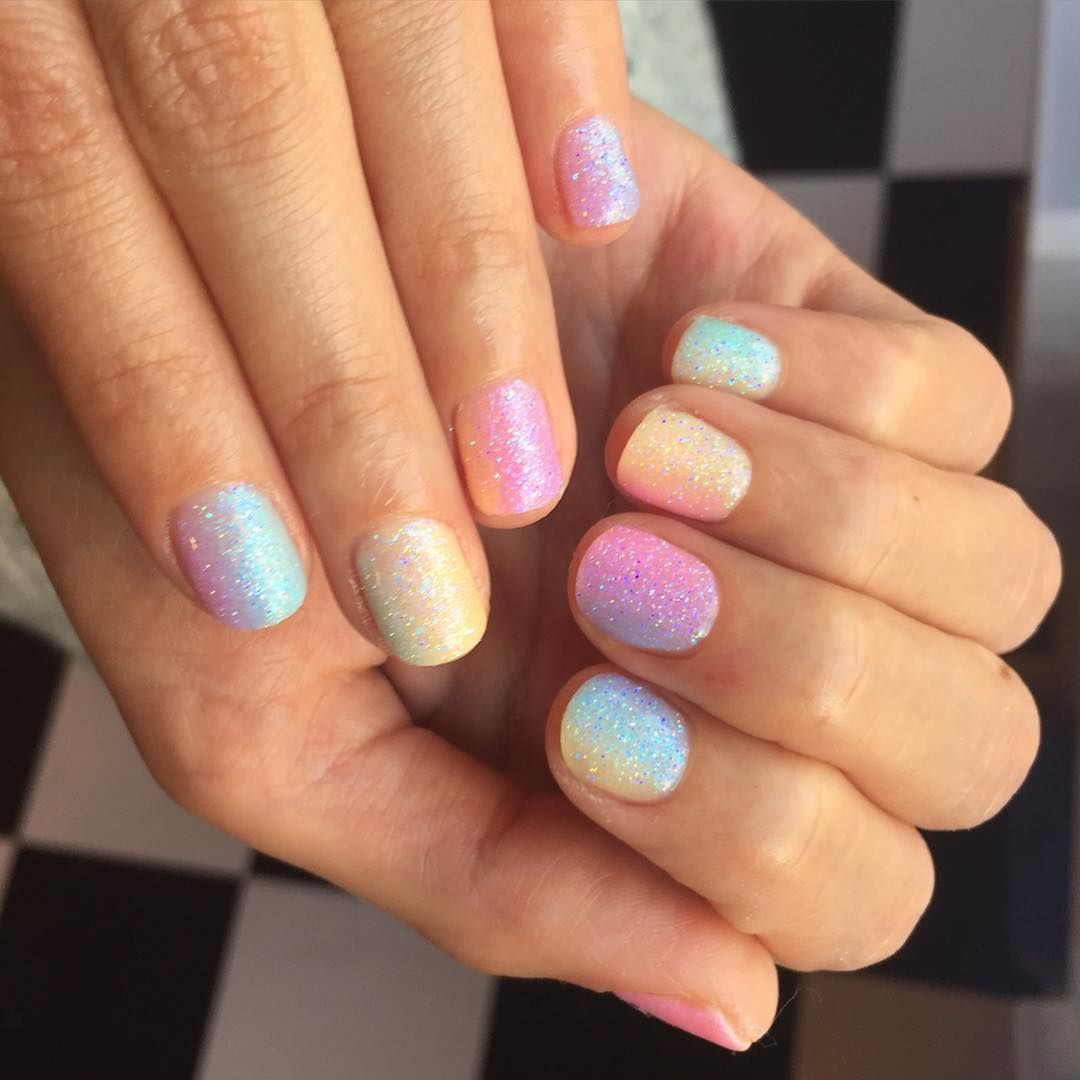 It's pretty likely that ombre colors – from shirts, hair, and your nails – won't go out of style anytime soon. If you haven't yet embraced this look, here is a great way to enjoy "gradient" color on your fingernails.
You want two colors that will "blend" in some way, like a medium blue and a light blue or a pale peach and a medium pink. You're also going to need a sponge and some toothpicks.
Start with a coat of the light colored polish. Then mix a little bit of both colors together on a piece of wax paper, blending them with a toothpick (it doesn't have to be well blended). Use the sponge to dab this blend onto your finger, starting with a more solid dab and moving into something that starts to "clear" up into the lighter first coat.
7. The Mermaid Look
Mermaids are all the rage right now – and you can give your nails a great mermaid look with a few specific nail polish colors and a steady hand. You can change up the colors, but these are great ones to start with – aqua, purple, white, metallic green, and gold.
Start with two coats of the color you want to use as your base color – gold is a great choice. Then use a thin nail art brush to make dots with the other colors (you may want an art brush for each color). Start making the dots at the tip of your nail and alternate colors as you work your way down, leaving some of the gold to peak through in between rows.
8. Skulls
Skulls aren't just for Halloween! Creating some cute skull nails is pretty simple, any time of the year.
All you need to turn your nails into cute skull designs is some black nail polish, some white nail polish, and a thin nail art brush. The thinner the brush the better, since you're creating skulls on a tiny canvas.
You'll start with a black base coat. Once that's dry, you will make some small skull-shaped white spots on your nails (as many or as few as you want). Then use black to make eyes, and even a nose and mouth (if you want to) on the skulls once they're dry.
Getting The Most Out Of DIY Simple Nail Designs
If you like doing these simple nail designs at home, you'll want to stock up on some of the items that are required for such endeavors. Fill a beauty case with a wide variety of nail polish "types" and colors, always have nail strips on hand, and collect a few different sizes of nail art brushes. Your friends won't believe you didn't go to the nail salon for that look.
Last update on 2023-10-04 / Affiliate links / Images from Amazon Product Advertising API